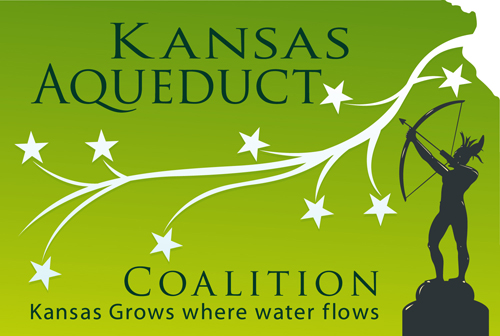 Kansas Aqueduct Coalition
PO Box 333




Alma, Kansas 66401

620.275.7147 phone

http://www.kansasaqueductcoalition.com

Mission:

Kansans must act to secure and develop the unused and undervalued waters of the state for the benefit of the present and future people of Kansas.
Vision:
The availability and demand for clean water around the world will be at disparate odds with ever increasing frequency.
This nexus of water is moving from the American West to the Midwestern states as increasing demand, drought and climate shifts affect traditional supplies and the value of clean water increases.
With greater frequency, the ways in which we source, distribute, process and appropriate water are being revisited, re-thought and refined at all levels of private and public interests.
This work for Kansas requires vision, leadership, collaboration and innovation at each discussion.
Addressing this societal issue presents significant opportunity, risk and reward.
Not addressing the problems represent inevitable cost and significantly more risk.
Looking at overall external risk, while still addressing internal efficiencies and operations, is critical in reducing potential impacts to Kansas business and service that the natural resource provides.
Water risks for Kansas can be reduced and service enhancements realized through a combination of strong leadership, watershed analyses, collective action and community engagement, a global business strategy, alliances and partnerships.
"Kansas can often be in a situation where in one part of the state it has too much water whereas in others, it doesn't have enough, all at the same time; a Feast AND Famine regarding water availability."

Kansas is at a critical crossroads. With sedimentation reducing water storage in the East, and the Ogallala being rapidly depleted in the West, Kansas stands to lose over 37 % of it's water in 50 counties across the state by 2062, or an annual shortfall of 1.86 million acre-feet. Since water is vital to thriving economies, not having the water the State demands will lead to an approximately 18.3 billion annual loss in Gross State Product, with 241,00 people out of work.

This video talks about efforts that are currently under way and others that could be considered to ensure that all of Kansas can access a sustainable supply of water and continue to enjoy economic prosperity.
SUMMARY:
It is the belief of this organization that a properly developed Kansas Aqueduct Project process is a necessary element in securing economic stability and prosperity for the entire state of Kansas. An action to reserve a 4 million acre feet amount early in that process rather than a person or Coalition filing an appropriation is an appropriate and necessary legislative action for Kansas. The revenues generated from agriculture in the western half of the state, and specifically in the areas served by the Ogallala Aquifer, are significant. A significant decline or decimation of those revenues would likely result in economic devastation for the entire state and, on a lesser level, the surrounding states. Kansas is respected as historically being progressive and forward-thinking in its use of water resources and this situation should be no different. We feel that the state of Kansas must act now to prepare for the future so as to avoid a water crisis that is almost certainly on the horizon.